Easy Work Xtreme 6.0 is a CAD 2D drawing instrument. The shapes to be cut can be drawn on the machine, imported from the orders database, uploaded using a USB pen drive, or by connecting the machine to the company network.
Easy Work Xtreme 6.0 also automatically calculates the shortest cutting path, thus minimizing execution times and allowing the parameters of every process (acceleration, speed, tools used) to be saved, simplifying and speeding up the repetition of the same job.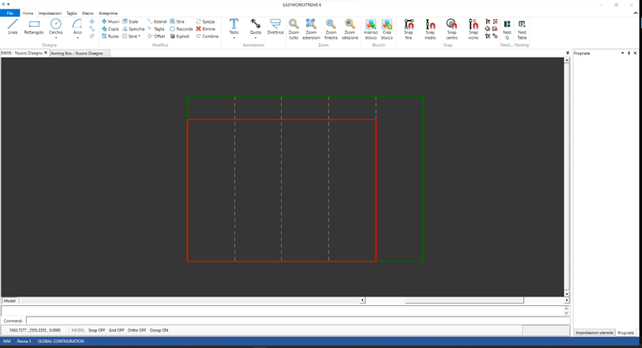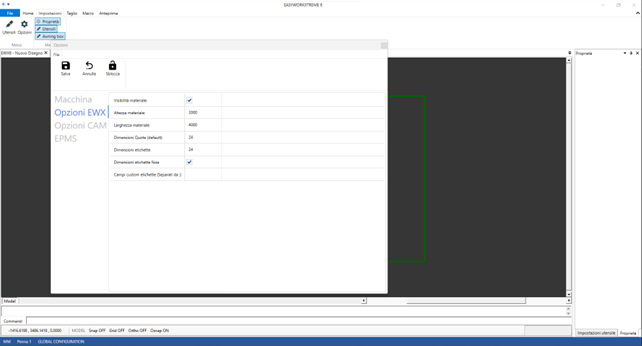 Main features
Simplified menu
Rapid setting of working parameters
Process optimization
Alarms


The machine carries out checks on the parameters set by the operator. It raises an alarm if it notices configurations in conflict with each other or machine functionalities, thus allowing them to be corrected.
Split Box
Split Box is a software option that allows a very large drawing to be divided into smaller pieces; making them suitable for processing on the machine work surface. The option not only divides the drawing into smaller parts, but automatically calculates the additional margins to be considered for the joints (successive welding or sewing).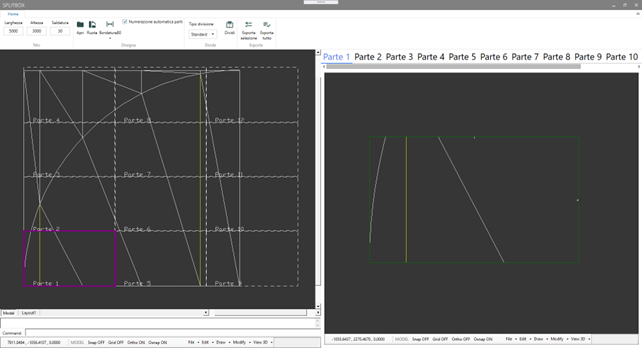 Automatic Nesting for Complex Shapes
Nesting is a software option that allows optimization of the placement of regular figures (squares, rectangles) or complex figures inside the selected work area.
Nesting can manage holes inside the placed shapes: the space inside the hole is used by nesting to place shapes and recover a portion of material, which would otherwise become waste.
Macros
Macros are pre-set rapid functions (customisable), which are used by the operator to create a drawing in a parametric manner. The macro facilitates the creation of recurring drawings, but with different dimensions.