SM-355-TA | Awning Valance Cutting Machine
The SM-355-TA was specifically designed for the continuous production of awning valances. With its highly efficient oscillating knife this machine cuts a wide range of materials such as acrylic, polyester and PVC-coated fabrics quick and with great precision.
The SM-355-TA is an affordable investment for start-ups and small and medium-sized companies, but its excellent performance makes it an great solution for the production requirements of large corporations too.
The Easy Valance Maker software, specifically developed for this machine, offers a wide selection of preset valance patterns and multiple production parameters that ensure the creation of the perfect valance. The setting of the parameters, such as the shape of the waves, the width and the height of each section, and the length of the valance, is very simple. With Easy Valance Maker, it is extremely easy to set up the machine for high quality cuts.
Download area
SM-355-TA Catalogue (English)
SM-355-TA Catalogo (Italiano)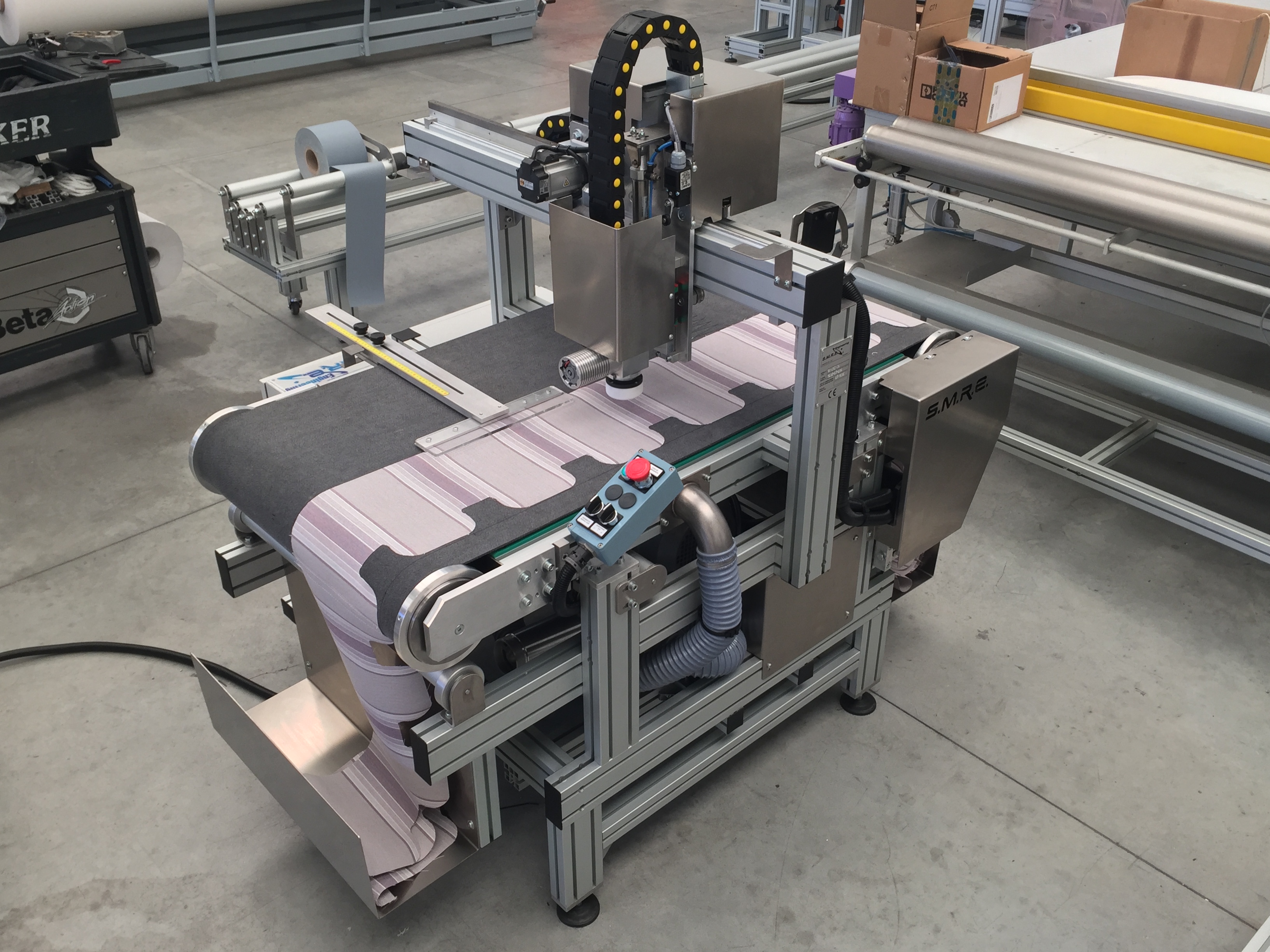 Applications
Awning valances
Installable tools and accessories
Oscillating knife
Vacuum turbine for total fabric control
Linear laser pointer to determine the zero point
Software
Easy Valance Maker
Technical specifications and configurations
Usable cutting area: 0,35 x 1,2 m for infinite cutting lengths
Advantages
Specifically designed for the efficient production of awning valances
Competitive price
Solid industrial structure
Small footprint
Industrial conveyor belt
Top quality parts
Simple to program, easy to operate
Automatic and continuous cutting cycles, exceptional productivity
Limited operational costs, very low maintenance costs
Related Articles & Product Information
image03-01
Camper awnings
One of the largest manufacturers in the world of RV campers, based in the U.S, commissioned the development and construction of a hot air welding machine that would produce camper awnings in high volumes. The seams were...
332-card
Anti-vandalism straps
One of Europe's chief manufacturers of truck curtains and a long-time SMRE customer requested the development of a fully automatic welding machine to produce anti-vandalism straps. The straps were to be used on...