SM-400 | Dual Axis Cutting Machine
The SM-400-TA was designed to cut rectangular shapes from specialty fabrics typically used for the production of awnings. Its industrial design, range of cutting technologies, and specifically developed software, make this machine the ideal cutting solution for manufacturers looking for a highly efficient way to create panels from a variety of textiles.
First introduced in 1999, multiple innovative solutions were integrated into the machine to ensure total reliability, making the SM-400-TA the top-of-the-line X-Y cutting machine it is today. If you're looking for fast and highly efficient production cycles and superior cuts and an easy-to-use machine the SM-400-TA is the solution for you.
To prevent shrinking and puckering of crystal (clear) PVC when exposed to sunlight, heat and cold, Solaredge Automation developed a system for the just-in-time heat treatment with infrared light. After this treatment the crystal PVC remains perfectly stable and can be integrated in products such as industrial doors, and tents and terrace covers, without the inconvenience of shrinkage, even when exposed to the elements. While other heat-treatment systems cause the crystal PVC to age, stiffen, and often give it a yellowish color, the treatment with the Solaredge Automation system leaves the material perfectly transparent, clear, and flexible.
Download area
SM-400-TA Catalogue (English)
SM-400-TA Catalogo (Italiano)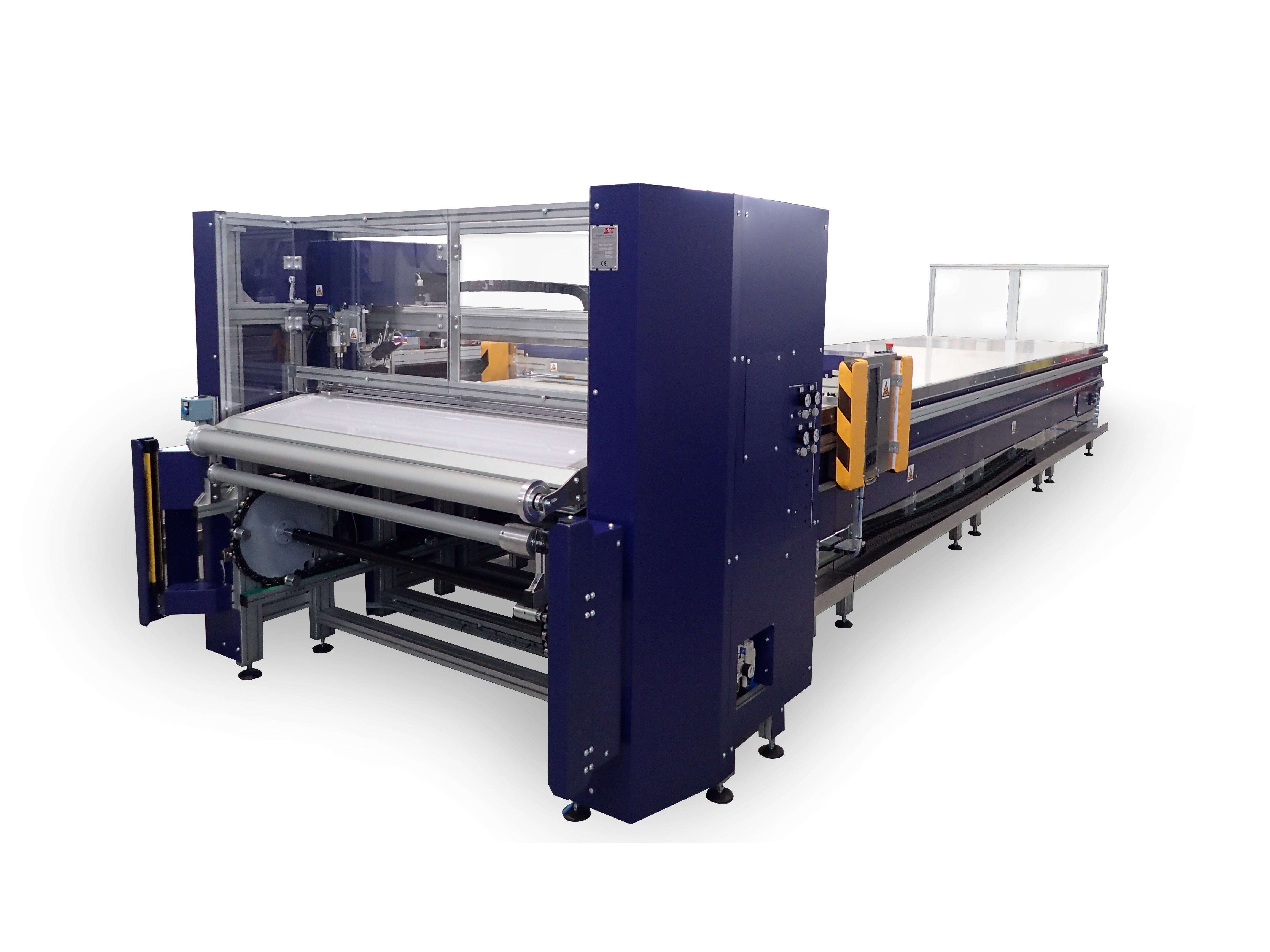 Applications
Awnings
Fire-retardant curtains
Industrial speed doors
Gazebos
Composite panels
Pergolas
Pool covers
Installable tools and accessories
Ultrasonic cutting tool for width and cross-cuts (up to 2 units)
Motorized rotary blade with pentagonal blade to cross-cut the fabric off the roll
Non-motorized rotary blade for width cuts
Automatic marker for reference lines to create the awning valance
Infrared system to stabilize crystal (clear) PVC
Roll cradle with edge control
Illumination system to detect flaws in the fabric
Under table fabric roll warehouse
Automatic fabric rewinding system
Router for long distance diagnosis, technical assistance and installation of upgrades
Software
Easy Awning Maker
Easy Production Management System
Barcode reading software
Technical specifications and configurations
Cutting tool configuration
Operating speed (ultrasonic): up to 25 m/min
Operating speed (rotary blade): up to 55 m/min
Bridge speed: up to 60 m/min
Cutting precision: 0,0 — +/- 1,0 mm
Advantages
Specifically created to produce awnings and panels in technical textiles
Innovative solution to stabilize crystal (clear) PVC
Fast bridge movement
Ergonomic open work area
Easy fabric feeding
Initial ultrasonic back-and-forth cut to avoid additional manual handling
Superior ultrasonic and/or cold blade cuts
Wide range of tools and accessories
Very high efficiency
Quick return on your investment
Solid, modular structure
Top quality parts
Simple to program, easy to operate
Advanced safety features
Automatic cycles, high production volumes
Low operational costs, negligible maintenance costs
Related Articles & Product Information
image03-01
Camper awnings
One of the largest manufacturers in the world of RV campers, based in the U.S, commissioned the development and construction of a hot air welding machine that would produce camper awnings in high volumes. The seams were...
332-card
Anti-vandalism straps
One of Europe's chief manufacturers of truck curtains and a long-time SMRE customer requested the development of a fully automatic welding machine to produce anti-vandalism straps. The straps were to be used on...