SM-375 | Digital Cutting Machine with Static Worktop
Many industries today process a wide variety of fabrics with very different characteristics. This poses a challenge to manufacturers, since fabrics with different features require different cutting technologies.
The SM-375-TA addresses this challenge: with a large assortment of cutting tools and accessories, ranging from CO₂ laser to drag knife, and from ultrasonic to oscillating knife, this machine can cut an unlimited range of CAD patterns in a wide variety of fabrics and materials and deliver the versatility and quality you are looking for.
A series of specifically developed software programs make the SM-375-TA the most efficient and flexible cutting solutions for technical textiles currently available on the market, and one of the flagship machines in the SolarEdge Automation catalogue.
Whether you produce roller blinds, pergolas, banners and signs, shade sails, pool covers, flexible tunnels, tents and shelters, tarpaulins, inflatable products, cinema screens, containments bladders, industrial doors, fire retardant curtains, wind breaker barriers, or any other product in specialty fabrics or industrial textiles, the SM-375-TA ensures quality cuts, extreme precision and superior efficiency.
Download area
SM-375-TA Catalogue (English)
SM-375-TA Catalogo (Italiano)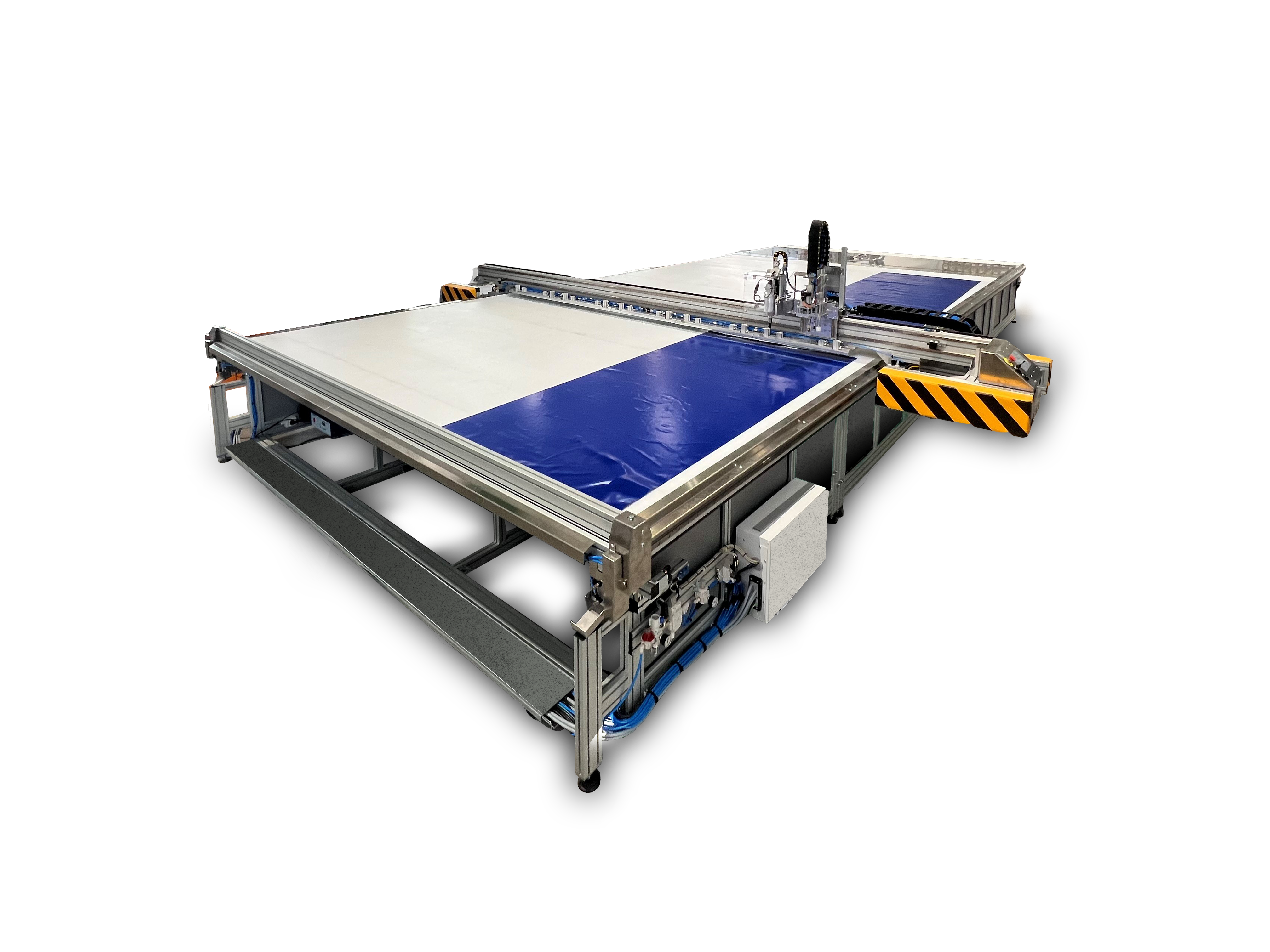 Applications
Roller blinds
Inflatables
Speed doors
Carpets
Fire retardant curtains
Awnings
Banners
Shade sails
Installable tools and accessories
Drag knife
Non-motorized rotary blade
Cutting laser up to 100W
Oscillating knife
10W Laser marker
Punching tool
Creasing tool
Ultrasonic blade
Marker pen
Laser pointer to determine the dynamic zero point
Vacuum turbine for work top
Sectioning of the vacuum surface
Inversion of the air flow from vacuum to "flying carpet"
Illumination system for detection of defects in the fabric
Motorized unwinding system for jumbo rolls with edge control
Roll cradle
Automatic fabric rewinder
Integrated fabric roll warehouse
Label printing unit
Router for long distance diagnosis, technical assistance and installation of upgrades
Software
EasyWork Xtreme
Automatic nesting
Splitbox
Barcode reading
Easy Production Management System (EPMS)
Easy Awning Maker
Easy Data Monitoring System
Technical specifications and configurations
Available in various sizes
Up to 4 cutting technologies simultaneously installable
Cutting speed up to 35 m/min.
Precision +/- 0,5 mm
Repeatability +/- 0,1 mm
Advantages
Simultaneous installation of multiple cutting technologies
A wide choice of cutting technologies and accessories
Highly versatile
Solid modular construction
Full-automatic cycles
Vacuum power for total fabric control
High precision work
Very customizable
Great efficiency
Quick return on investment
Top quality parts
Unparalleled cutting quality
Advanced safety features
Related Articles & Product Informations
332-card
Anti-vandalism straps
One of Europe's chief manufacturers of truck curtains and a long-time SMRE customer requested the development of a fully automatic welding machine to produce anti-vandalism straps. The straps were to be used on...