SM-325-TA |

Hybrid Laser and Blade Cutting Machine
The SM-325-TA is an excellent solution to cut and mark a wide range of technical fabrics with different characteristics, and deliver highly professional products with uncompromising quality. Laser cutting technology is used to cut and mark many different fabrics and technical textiles, but is also suitable for rigid materials. This technology is commonly chosen as the preferential cutting technology to produce sun protection systems, often made with delicate, light-colored fabrics, and provides a smoothly finished and perfectly seared cutting edge.
Laser beams do not physically touch the processed fabrics ensuring cuts with great precision, even when intricate patterns are created. Laser cutting can be done with a gantry CO₂ laser head that moves over the fabric reproducing CAD drawings, or with a galvanometric laser head that uses mirrors to create patterns in a limited cutting area at very high speed and with great precision.
The SM-325-TA is equipped with a steel mesh conveyor belt to make laser cuts of infinite lengths, along with a laser pointer to determine the dynamic zero point.
Depending on the needed machine configuration, a wide range of additional tools and accessories are available to make the SM-325-TA the ideal cutting solution for your automated manufacturing requirements.
Download area
SM-325-TA Catalogue (English)
SM-325-TA Catalogo (Italiano)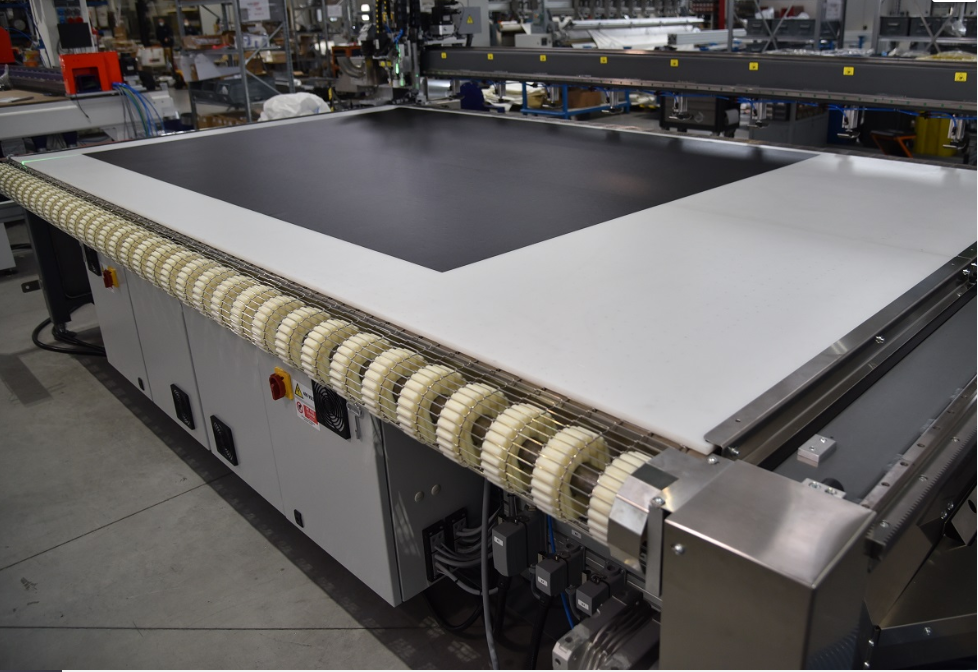 Applications
Air ducts
Shade sails
Umbrellas
Installable tools and accessories
CO2 gantry laser (up to 450W)
Galvanometric laser marker and cutter
Motorized unwinding system for jumbo rolls
Linear laser pointer for fabric alignment
Laser pointer to determine the dynamic zero point
Steel mesh conveyor belt
Vacuum turbine for worktop
Router for long distance diagnosis, technical assistance and installation of upgrades
Technical specifications and configurations
Usable cutting frame available in various sizes
Speed up to 50 m/min.
Repeatability and precision: +/- 0,1 mm
Advantages
Automatic cycles for high volumes production
Very high cutting precision
High cutting speed
Creation of very large products in a small footprint
Advanced safety features
Related Articles & Product Information
inflatables
Inflatables
SolarEdge Automation Machines has the perfect solution for you. With hundreds of cutting and welding machines supplied to leading manufacturers in the flexible PVC industry globally, we combine innovative technology..
image03-01
Camper awnings
One of the largest manufacturers in the world of RV campers, based in the U.S, commissioned the development and construction of a hot air welding machine that would produce camper awnings in high volumes. The seams were...
332-card
Anti-vandalism straps
One of Europe's chief manufacturers of truck curtains and a long-time SMRE customer requested the development of a fully automatic welding machine to produce anti-vandalism straps. The straps were to be used on...