SM-332-TA |
Cutting Plotter with Conveyor Belt
After more than two decades of experience with heavy-duty cutting in a wide range of industries, SolarEdge Automation Machines introduces the SM-332-TA. Originating from the symbiosis of superior control system, a very robust machine structure, precision mechanics, and highly efficient cutting tools, the SM-332-TA was developed for the continuous high-speed cutting of CAD-patterns on a variety of materials.
With specifically developed CAD/CAM software programs, the SM-332-TA enables manufacturers to cut patterns of superior quality from a virtually infinite range of fabrics and materials. Even though the SM-332-TA is a top-of-the-range cutting machine, it can be easily operated by untrained staff.
The SM-332-TA is designed to maximise production efficiency while being a highly flexible working tool. Designed to meet a variety of application needs, the machine is fast, accurate, versatile and guarantees high production efficiency and machining quality. The machine is equipped with twin tool hibs that install a wide range of interchangable tools (plug & play operation). Our Easy Production Management System (EPMS) software makes the SM-332-TA ready for Industry 4.0. It is a full-fledged MES (Manufacturing Execution System) and it allows integration with ERP system for larger organizations.
Download area
SM-332-TA Catalogue (English)
SM-332-TA Catalogo (Italiano)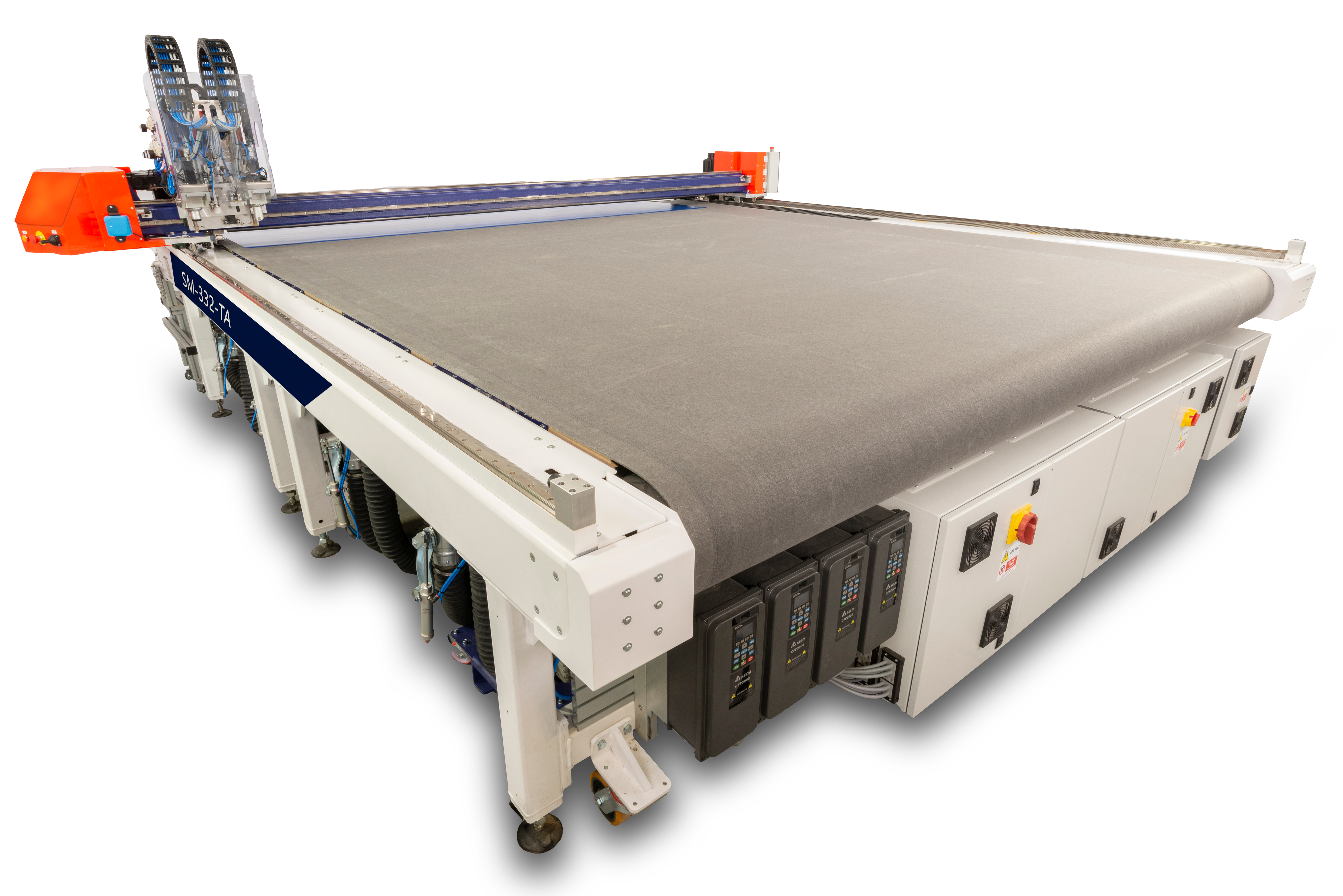 Applications
Tension structures
Shade sails
Umbrellas
Composites
Truck curtains and roofs
Pool covers
Pergolas
Conveyor belts
Industrial doors
Roller blinds
Leather products
Composites
Packaging
Banners
Windbreak barriers
Installable tools and accessories
Drag knife
Oscillating knife
Non-motorized rotary blade
Motorized rotary blade
Kiss-cut
V-cut knife
Oscillating V-cut knife
Milling head
Punching tool
Creasing tool
Ultrasonic blade
Marker pen
Laser pointer to determine the dynamic zero point
Vacuum turbine for work top
Industrial conveyor belt
Motorized unwinding system for jumbo rolls with edge control
Router for long distance diagnosis, technical assistance and installation of upgrades
Software
EasyWork Xtreme
Automatic nesting
Splitbox
Barcode reading
Easy Production Management System (EPMS)
Easy Awning Maker
Easy Data Monitoring System
Technical specifications and configurations
Available in various sizes Extension modules for the safe unloading on cut out patterns
Cutting speed up to 90 m/min
Acceleration up to 1G
Precision +/- 0,1 mm
Repeatability +/- 0,05 mm
Twin tool hubs
Up to 4 different vacuum areas
Advantages
High speed and super-fast acceleration
High range of hi-performance cutting tools
Quick tool change system
High cutting precision
Innovative security systems with sophisticated radar sensors to ensure operator safety at high speed
Multiple technologies available
Solid industrial structure
Heavy duty industrial conveyor belt
Automatic setting of parameters
Continuous cutting cycles for exceptional productivity
Creation of very large shapes in a limited space
Top quality parts
Vacuum power for total fabric control
Unparalleled cutting quality on a wide variety of specialty fabrics
Related Articles & Product Information
image03-01
Camper awnings
One of the largest manufacturers in the world of RV campers, based in the U.S, commissioned the development and construction of a hot air welding machine that would produce camper awnings in high volumes. The seams were...
332-card
Anti-vandalism straps
One of Europe's chief manufacturers of truck curtains and a long-time SMRE customer requested the development of a fully automatic welding machine to produce anti-vandalism straps. The straps were to be used on...