SM-200 |
Stationary Head Welding Machine
To weld PVC, Screen, crystal (clear) PVC or other thermoplastics and create pockets, overlap seams, or hems with or without rope or keder insert, or produce anti-vandalism belts or quality keders at very high speed, SolarEdge Automation proposes the SM-200-SA.
With its sturdy design and selection of custom-made guides, welding wheels and accessories, the SM-200-SA with hot air technology will create a wide range of seams, even on the heaviest PVC. The machine is swift and precise, the ideal solution for manufacturers who need to perform continuous welds on a wide range of technical fabrics.
In 2017, SolarEdge Automation Machines introduced a high-speed version of the SM-200-SA for the continuous, automated production of keders. An extremely powerful heating element combined with a series of specifically designed industrial components and tools enable welding speeds up to 40 m/min. and tightly welded keders. The SM-200-SA high-speed keder machine has seen several upgrades and numerous tools and accessories were developed that make it the most efficient machine for the volume production of high quality keders.
Besides hot air, the SM-200-SA can install ultrasonic welding technology, whereby a sonotrode and an anvil generate high frequency vibrations between 20 - 40 kHz to generate heat to seam technical fabrics such as non-wovens for the creation of medical and other products.
Download area
SM-200-SA Catalogue (English)
SM-200-SA Catalogo (Italiano)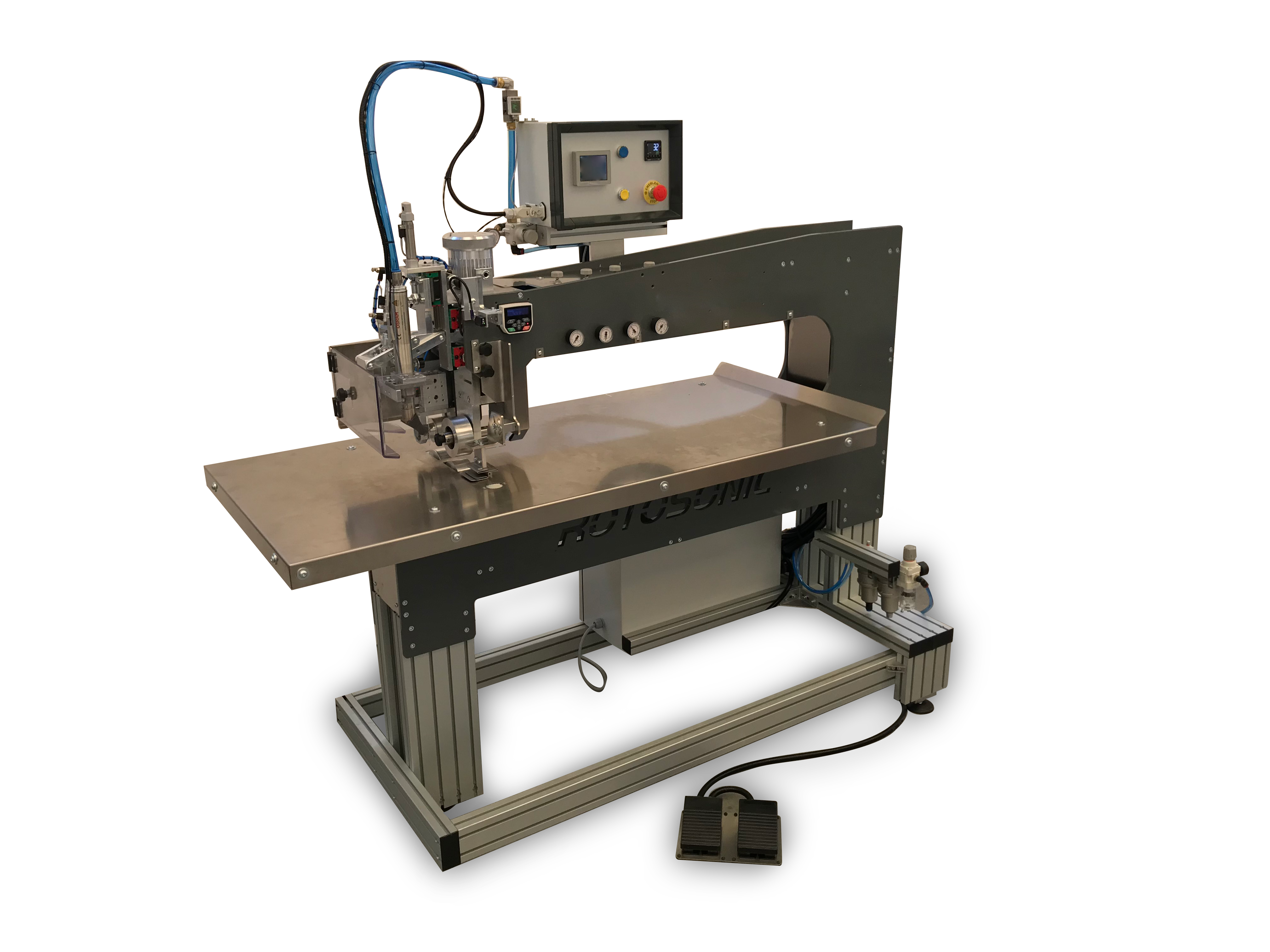 Applications
Keders
Anti-vandalism belts
Tents and shelters
Tarpaulins
Inflatables
Truck covers
Sails
Banners
Medical gowns
Filters
Installable tools and accessories
Hot air welding head with 3,6 kW heating element
Hot air welding head with 8 kW heating element for high-speed welding
Rotosonic (ultrasonic) welding head with welding surface up to 28 mm
Guides and welding wheels for overlaps
Guides and welding wheels for hems and pockets
Guides and welding wheels for keders and anti-vandalism belts
Torque controlled puller wheels
Motorized rewinding system for keders with left and right oscillating movement to ensure an evenly rewound product
Conveyor belt for XL and heavy fabrics
Cooling station for keders
Rewinding station for keders and anti-vandalism belts
Router for long distance diagnosis, technical assistance and installation of upgrades
Software
PLC controlled machine
Technical specifications and configurations
Welding arm with 60 cm under arm space
Welding arm with 1,0 m under arm space
Hot air welding with speed up to 40 m/min.
Ultrasonic welding with speed up to 10 m/min.
Advantages
Hot air or ultrasonic welding technology
Custom designed tools and accessories for multiple applications
Very strong seams
Industrial, sturdy machine design
High quality components
Multiple welding menus
Easy to operate
Advanced safety features
Limited operational costs
Negligible maintenance costs
We work to solve your problems
Related Articles & Products
image03-01
Camper awnings
One of the largest manufacturers in the world of RV campers, based in the U.S, commissioned the development and construction of a hot air welding machine that would produce camper awnings in high volumes. The seams were...
332-card
Anti-vandalism straps
One of Europe's chief manufacturers of truck curtains and a long-time SMRE customer requested the development of a fully automatic welding machine to produce anti-vandalism straps. The straps were to be used on...