SM-321 | Multiple tool conveyor welding machine
The SM-321-HA is a digitally controlled multiple-tool welding station with conveyor belt for the full-automatic and continuous production of truck curtains, anti-vandalism curtains, and truck roofs. The culmination of more than a decade of experience in designing and building heavy duty welding and cutting machines to process PVC-coated textiles, the SM-321-HA is a game changer in the truck curtain industry.
The SM-321-HA drastically reduces the time needed to manufacture a truck curtain from several man hours to 20 minutes or less. Since its introduction in 2010 the machine has seen continuous upgrades and, today, is an extremely efficient, very precise manufacturing solution for quality truck curtains.
The SM-321-HA can manufacture directly from the jumbo roll or process individual pre-printed or pre-cut PVC panels and enables manufacturers to produce curtains and roofs of superior quality. With specifically developed easy-to-use software programs, no particular skills are needed to operate this machine.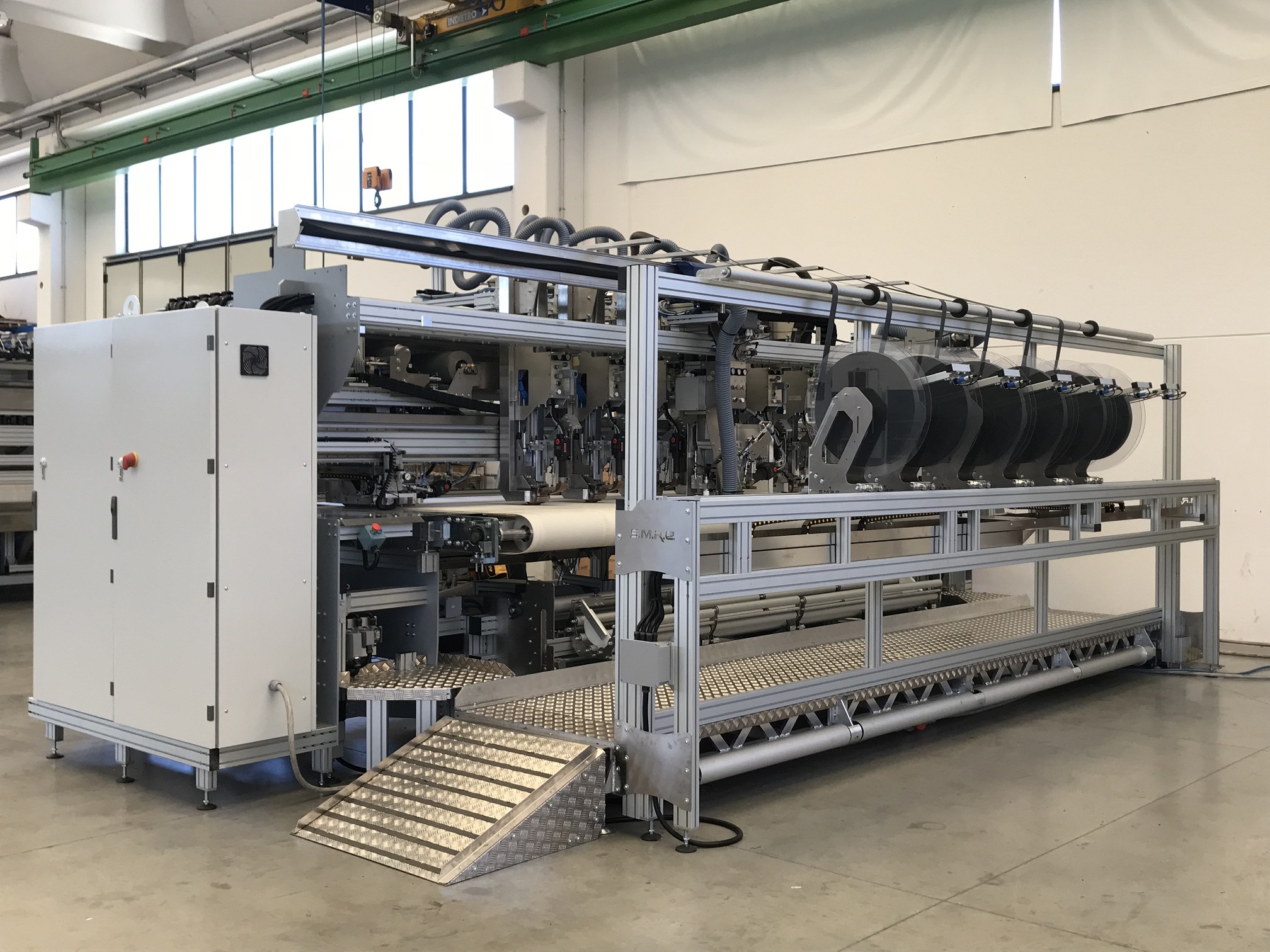 Applications
Side curtains
Anti-vandalism curtains
Truck roofs
Installable tools and accessories
Welding heads for horizontal and vertical 50 mm belts
Welding heads for vertical reinforcing belts (up to 350 mm)
Welding heads for horizontal reinforcing belts (up to 300 mm)
Welding heads for horizontal and vertical anti-vandalism belts
Welding heads for belts with or without butterflies (roofs)
Welding heads for pockets-with-rope (roofs)
Marking tool
Motorized cutting system for the cross-cut
Non-motorized cutting system for the width cut
Motorized unwinding system for jumbo rolls with edge control and fabric tension adjustment
Roll holder for non-jumbo rolls with edge control
Collectors for the extraction of the welding fumes
Router for long distance diagnosis, technical assistance and installation of upgrades
Software
Easy Truck Cover Manufacturer: macros for the quick and easy creation of CAD files
Technical specifications and configurations
Number of bridges and welding heads customized according to curtain configurations
Jumbo rolls up to 1.000 kg
Maximum welding width: 4.200 mm
Maximum working length: infinite
Advantages
Continuous production cycles
Exceptional productivity
High level of automation
Index welding according to CAD drawings
Drastic reduction of manpower
Creation of very large products in a limited space
Heavy duty industrial structure
Highly customizable
Multiple layer heat resistant conveyor belt
Superior control systems, top quality parts
Vacuum turbine for total fabric control
Very small tolerances even on great lengths
Unparalleled welding quality
Advanced safety features
Related Articles & Product Information
image03-01
Camper awnings
One of the largest manufacturers in the world of RV campers, based in the U.S, commissioned the development and construction of a hot air welding machine that would produce camper awnings in high volumes. The seams were...
332-card
Anti-vandalism straps
One of Europe's chief manufacturers of truck curtains and a long-time SMRE customer requested the development of a fully automatic welding machine to produce anti-vandalism straps. The straps were to be used on...