SM-100-CA |
Automatic Linear Sewing Machines
Today, many industries use highly specialized technical fabrics and require very specific, customized applications. With its broad range of sewing tools and accessories, the SM-100-CA will create quality seams on an infinite range of fabrics, even on tough PVC-coated textiles, crystal (clear) PVC, or fire-retardant fabrics.
Whether you produce awnings, sails, pool covers, tarpaulins, banners, wind barriers, or fire-retardant curtains, the SM-100-CA can be equipped with the accessories needed to meet your production requirements and deliver highly professional products.
Easy to use and extremely efficient, the SM-100-CA automatic linear sewing machine is a complete industrial sewing solution that will streamline your production and boost your manufacturing output.
Industrial sewing has never been this easy.
Download area
SM-100-CA Catalogue (English)
SM-100-CA Catalogo (Italiano)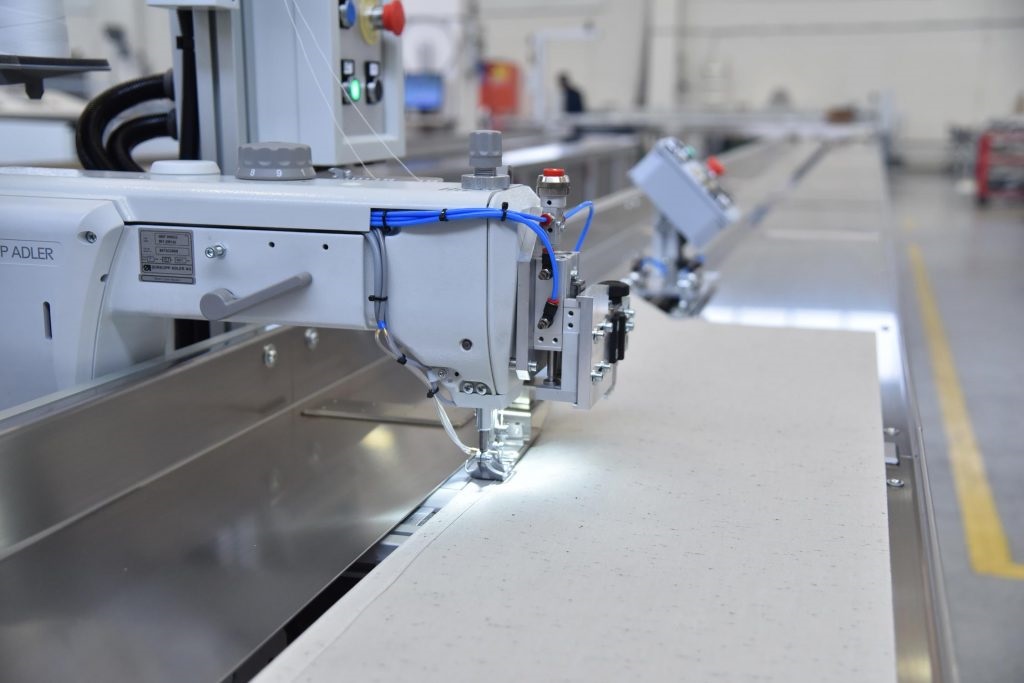 APPLICATIONS
Awnings
Sails
Pool covers
Fire-retardant curtains
Agricultural covers
Umbrellas
Gazebos and terrace covers
Roller blinds
Wind barriers
Tarpaulins
Banners
Tents and shelters
INSTALLABLE TOOLS AND ACCESSORIES
Guides for overlaps
Guides for hems and pockets
Guides for reinforcing strips
Pneumatic positioning of the guides with quick guide change system
Automatic rewinding system for thread spool
Automatic fabric rewinding system
Needle cooling system
Thread break detection system
Router for long distance diagnosis, technical assistance and installation of upgrades
SOFTWARE
TECHNICAL SPECS AND CONFIGURATIONS
Durkopp Adler 867 sewing head
Modular, extensible structure: up to 20m of usable sewing length
Sewing speed up to 3.500 stitches/min.
Sewing head moving speed up to 10 m/min.
ADVANTAGES
Hems, pockets and overlaps of superior quality
Automatic digital synchronization of the up-and-down needle movement and the movement of the travelling sewing head
Solid, industrial structure
Extension table to customize machine length
Total speed and motion control
Top quality parts
Wide variety of available sewing accessories
High production output
Automatic guide positioning
Quick guide change system
Easy to operate
Advanced safety features
Limited operational costs, negligible maintenance costs
Suitable for an infinite range of specialty fabrics
We work to solve your problems
Related Articles & Products
image03-01
Camper awnings
One of the largest manufacturers in the world of RV campers, based in the U.S, commissioned the development and construction of a hot air welding machine that would produce camper awnings in high volumes. The seams were...
332-card
Anti-vandalism straps
One of Europe's chief manufacturers of truck curtains and a long-time SMRE customer requested the development of a fully automatic welding machine to produce anti-vandalism straps. The straps were to be used on...