SM-500-ZA | Welding Machines for Custom-Sized Insect Screens
Machines of the 500- and 520-series are considered a breakthrough in the automated production of insect screens—the first and only machines in the world that manufacture quality retractable screens ready for installation in a continuous cycle directly from the roll.
The SM-500-ZA is specialized in the production of custom-sized retractable insect screens and carries out multiple steps in the production process simultaneously, resulting in significant reduction of needed manpower and manufacturing time. The machine pulls the screen from the roll, trims the left and right edges, welds the lateral reinforcing strip, applies the coextruded profile to the top of the screen, and the pocket with keder insert to the bottom. Finally, the machine will cross-cut the material at the programmed length and start the production of the next insect screen. Continuously, one after the other. Fast and precise.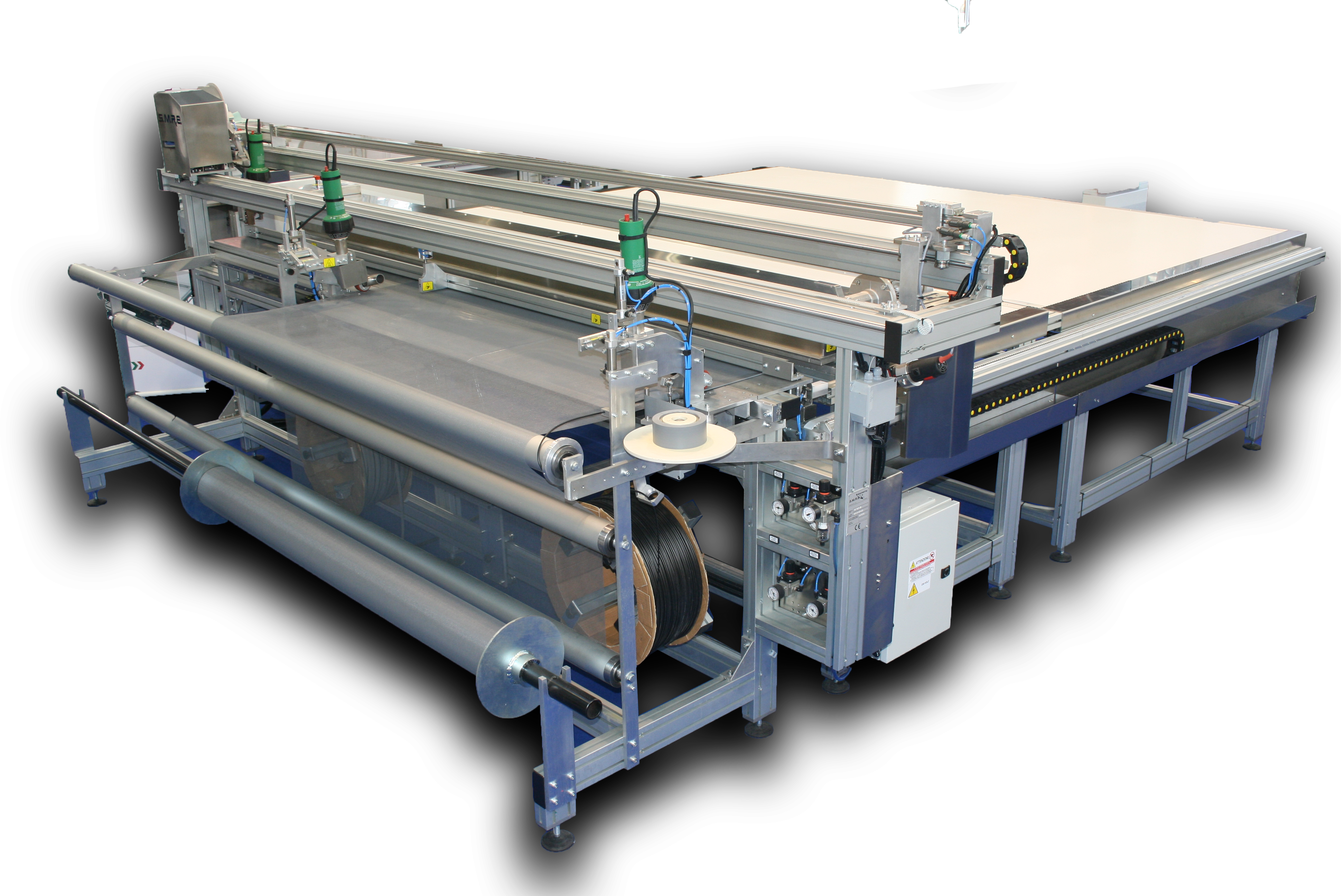 Applications
Custom-sized retractable insect screens
Installable tools and accessories
Welding head for the pocket with keder insert
Welding head for the coextruded PVC profile
Welding head for the lateral reinforcing strip
Cutting units with electrically driven rotating cutting blade to trim the screen edges
Motorized rotary blade with pentagonal blade to cross-cut the screen off of the roll
Router for long distance diagnosis, technical assistance and installation of upgrades
Software
Touch screen macro to set the sizes and quantities of screens to be manufactured
EPMS
Barcode reading software
Technical specifications and configurations
Maximum screen width: 3,0 m
Maximum screen length: 3,0 m
Maximum welding speed: 6 m/min.
Width tolerance of the finished product: +/-1 mm
Length tolerance of the finished product: +/-1 mm
Diagonal tolerance of the finished product: +/-2 mm
Advantages
Top-of-the-bill electronic and pneumatic components
Hi-performance welding tools
Simple, robust and modular design
Revolutionary production concept
High production output
Superior welding quality
Easy to operate, simple to program
Automatic production cycles
Reduces manpower: only one operator needed
Significantly reduces cycle time
Low operational costs
Minimal maintenance costs
Advanced safety features
Related Articles & Product Information
image03-01
Camper awnings
One of the largest manufacturers in the world of RV campers, based in the U.S, commissioned the development and construction of a hot air welding machine that would produce camper awnings in high volumes. The seams were...
332-card
Anti-vandalism straps
One of Europe's chief manufacturers of truck curtains and a long-time SMRE customer requested the development of a fully automatic welding machine to produce anti-vandalism straps. The straps were to be used on...