SM-450-SA | Multiple roll digital welding machine
The SM-450-SA welding station is an industrial manufacturing solution that Solaredge Automation Machines introduced, based on our broad expertise in the design and construction of heavy duty welding machines for PVC-coated textiles and other thermoplastics for a wide range of industries. The machine is a symbiosis of superior control systems, a very robust design, and quality mechanics. The SM-450-SA is able to process single or multiple jumbo rolls and creates overlaps, hems and pockets, pockets with rope or keder inserts, or applies keders or other profiles to the edge of the processed fabric sheets. Developed for continuous welding and cutting cycles, the SM-450-SA will streamline your manufacturing processes, deliver exceptional productivity and outstanding efficiency.
The machine's flexible design enables the installation of multiple tool bridges and welding and cutting tools according to our customers' production requirements. Besides the welding tools, which are the core of the machine's operations, an optional station can be installed that is equipped with cutting tools to fly-cut patterns out of the just created panels. Cameras can be installed to monitor the quality of the seams from a single control station.
Whether you produce building wraps, stadium covers, walls for tents and shelters, RV awnings, tarpaulins, swimming pool covers, or flexible tunnels — the capacity of the SM-450-SA to process single or multiple textile rolls, its custom-built welding tools and accessories, and a series of specifically developed software programs, make this machine an industrial fabric welding solution unlike any other on the market, that will enable you to create products of superior quality with extreme efficiency.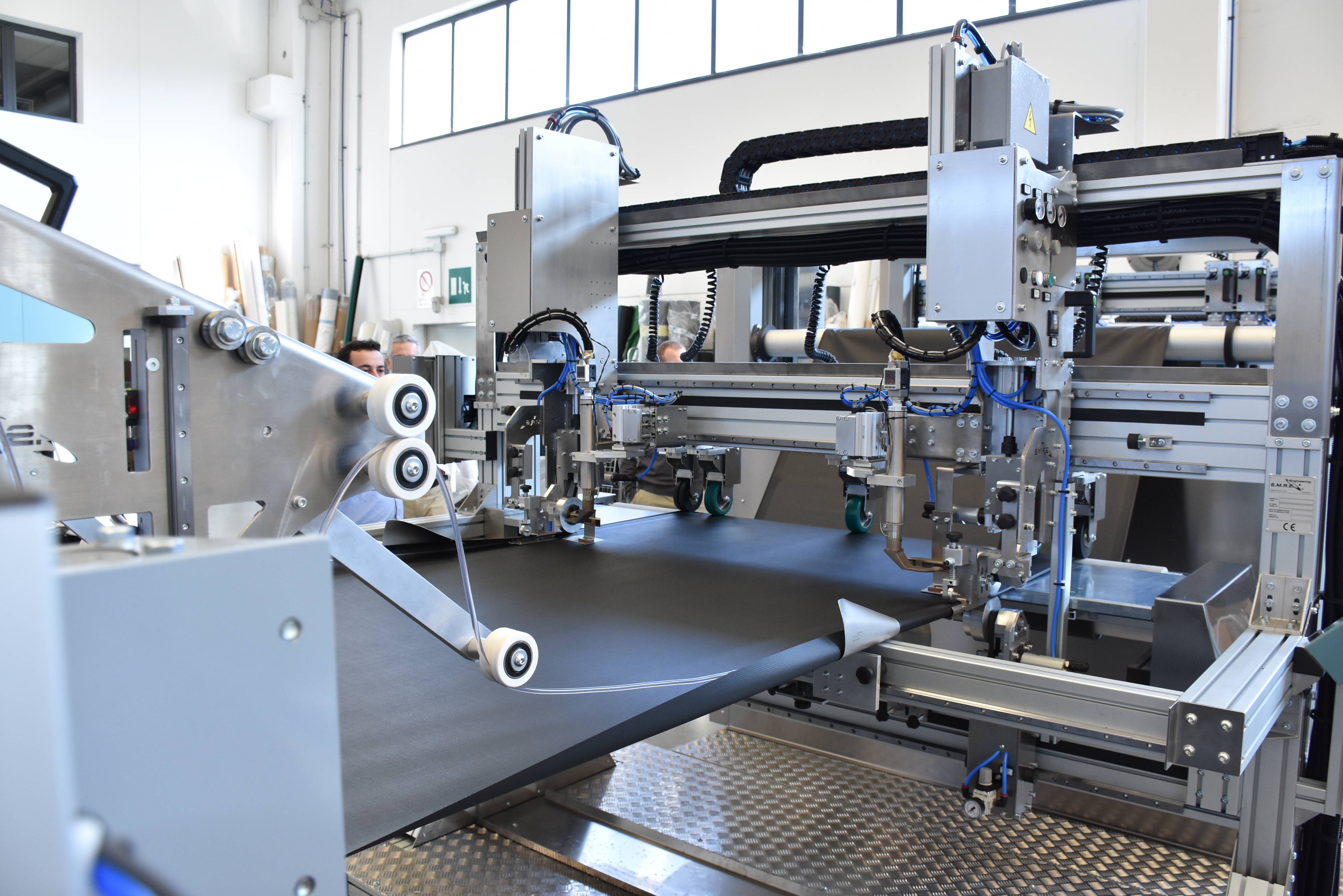 Applications
RV awnings and slide toppers
Tarpaulins
Pool covers
Building wraps
PVC tunnels
Stadium covers
Tents and temporary shelters
Installable tools and accessories
Welding heads for overlaps, hems, pockets and multiple profiles
Turning welding heads to apply curved profiles
Motorized unwinding system with edge control for jumbo rolls
Motorized rewinding system for the cut off strip
Fly cutting station
Stacking system for finished products
Marking tools
Collectors for the extraction of welding fumes
Router for long distance diagnosis, technical assistance and installation of upgrades
Software
Customized for each application
Technical specifications and configurations
Bridges and welding head configuration according to finished products
Jumbo rolls up to 1.000 kg
Welding heads up to 8 kW
Welding speed up to 15 m/min
Advantages
Specifically developed to weld PVC-coated textiles and other thermoplastics
Multiple welding heads for the simultaneous creation of quality seams
Able to process single or multiple fabric rolls
Robust industrial design
Highly customizable
Continuous welding cycles, exceptional productivity
High level of automation
Creates very large shapes in a limited space
A choice of precision tools and accessories
Unparalleled manufacturing efficiency
Advanced safety features
Related Articles & Product Information
image03-01
Camper awnings
One of the largest manufacturers in the world of RV campers, based in the U.S, commissioned the development and construction of a hot air welding machine that would produce camper awnings in high volumes. The seams were...
332-card
Anti-vandalism straps
One of Europe's chief manufacturers of truck curtains and a long-time SMRE customer requested the development of a fully automatic welding machine to produce anti-vandalism straps. The straps were to be used on...