SM-370-HA | Multiple tool flatbed welding machine
Following the introduction of the conveyor welding station SM-321-HA, that reduced the production time for a single truck curtain from multiple man hours to under 20 minutes, SolarEdge Automation developed the SM-370-HA: a flatbed multiple bridge, multiple tool index welding machine for the full-automatic production of truck curtains, anti-vandalism curtains and roofs in record-breaking cycle times.
Since its introduction in 2016, the SM-370-HA has seen several upgrades that make it the fastest, most efficient manufacturing solution for truck curtains and roofs currently available on the market. Full-automatic, highly efficient, very flexible, and very precise, this machine delivers extremely high production output and curtains and roofs of excellent quality.
The SM-370-HA can be custom made in terms of size, tools, and accessories, according to the manufacturing requirements of our customers. When high volume production is required, we add multiple bridges to apply vertical belts, or install high-per welding heads to speed up the operations. Welds can be horizontal, vertical, even diagonal or following a CAD patterns, and range from 50 mm belts and strips up to 350 mm, to straps with butterflies or anti-vandalism cables. Various cutting and marking solutions are available, making the SM-370-HA the most complete and efficient machine for the truck curtain industry available on the market today.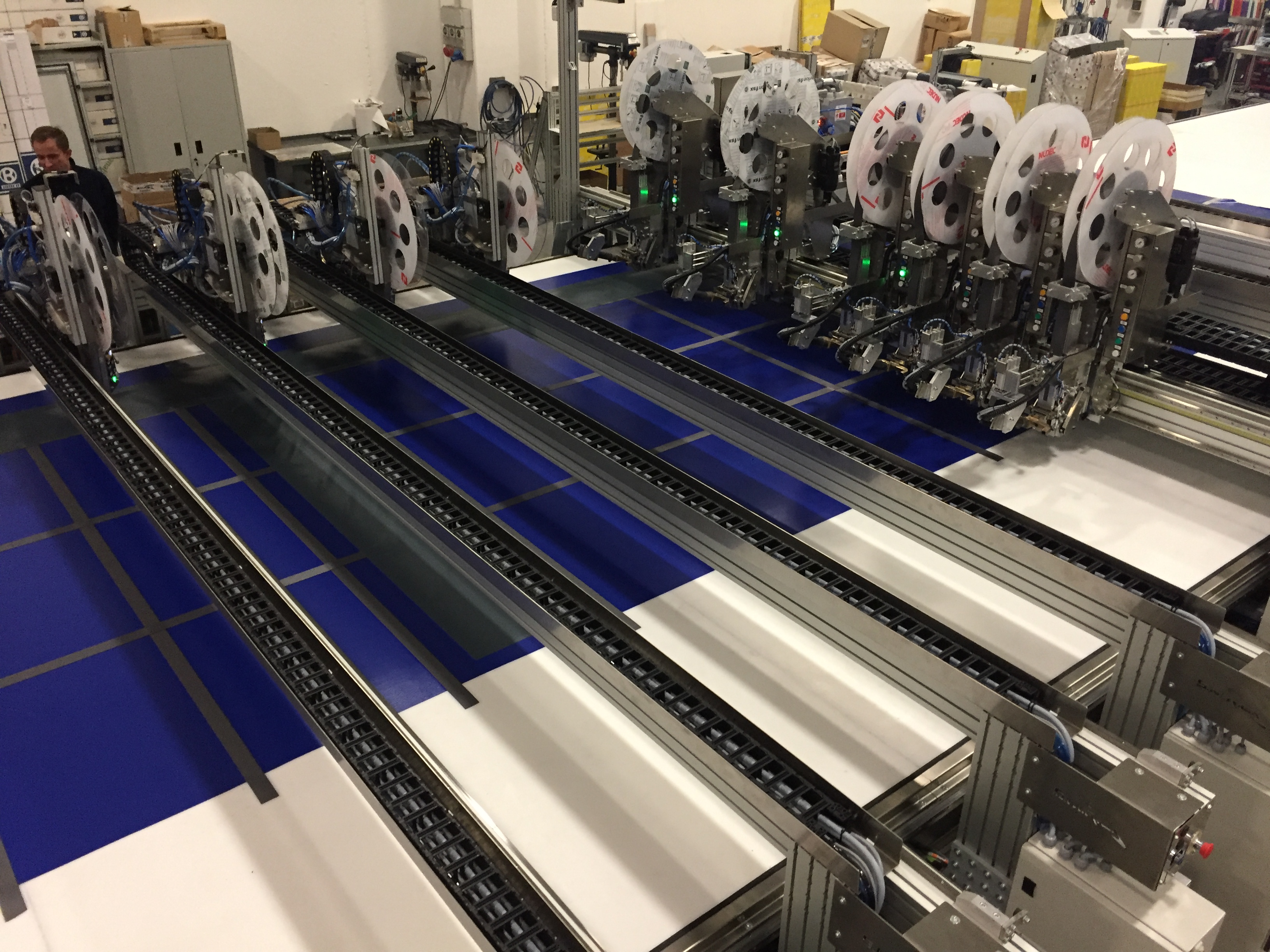 Applications
Side curtains
Anti-vandalism curtains
Truck roofs
Installable tools and accessories
Welding heads for horizontal and vertical 50 mm belts
Welding heads for diagonal 50 mm belts
Welding heads for vertical reinforcing belts (up to 350 mm)
Welding heads for horizontal reinforcing belts (up to 300 mm)
Welding heads for horizontal Velcro belts
Welding heads for horizontal and vertical anti-vandalism belts
Welding heads for belts with or without butterflies (roofs)
Welding heads for pockets-with-rope (roofs)
Marking tool
Cutting head
Punching tool
Motorized cutting blade for the cross cut
Non-motorized cutting system for the width cut
Motorized unwinding system for jumbo rolls with edge control and fabric tension adjustment
Roll holder for non-jumbo rolls with edge control
Collectors for the extraction of the welding fumes
Inversion of the air flow from vacuum to create a "flying carpet" effect
Router for long distance diagnosis, technical assistance and installation of upgrades
Software
EasyWork Xtreme
Customized macro's
Technical specifications and configurations
Number of bridges and welding heads customized according to curtain and roof configurations
Jumbo rolls up to 1000 kg.
Maximum welding area: 3.900 mm x 16.500 mm.
Maximum bridge moving speed: 30 m/min.
Advantages
Very high level of automation
Highly efficient production cycles
Full-automatic index welding according to CAD drawings
Simultaneous operations with multiple bridges
Drastic reduction of required man hours
Exceptional manufacturing output
Choice of precision welding tools to apply a wide variety of reinforcing belts
Heavy duty industrial structure
Highly customizable
Superior control systems
Top quality parts
Vacuum power for total fabric control
Sectioning of all modules of the welding surface
Small tolerances even on very large products
Unparalleled welding quality
Related Articles & Product Information
image03-01
Camper awnings
One of the largest manufacturers in the world of RV campers, based in the U.S, commissioned the development and construction of a hot air welding machine that would produce camper awnings in high volumes. The seams were...
332-card
Anti-vandalism straps
One of Europe's chief manufacturers of truck curtains and a long-time SMRE customer requested the development of a fully automatic welding machine to produce anti-vandalism straps. The straps were to be used on...