SM-230 | FlexWeld Machine
Leveraging on more than 20 years of experience in developing automated solutions for industrial hot air welding, SolarEdge Automation introduced the all-new, powerful SM-230-SA FlexWeld.
The FlexWeld welding machine is engineered to make complex welding jobs easier. It is optimized for the creation of products such as inflatables, containment booms, duct pipes and ventilation tubes, gazebos, PVC covers, even truck curtains.
Ideal for manufacturers who need to perform continuous welds on thermoplastic industrial textiles and films, the SM-230-SA FlexWeld welding machine is the result of our dedication to continuous research and development.
Download area
SM-230-SA Catalogue (English)
SM-230-SA Catalogo (Italiano)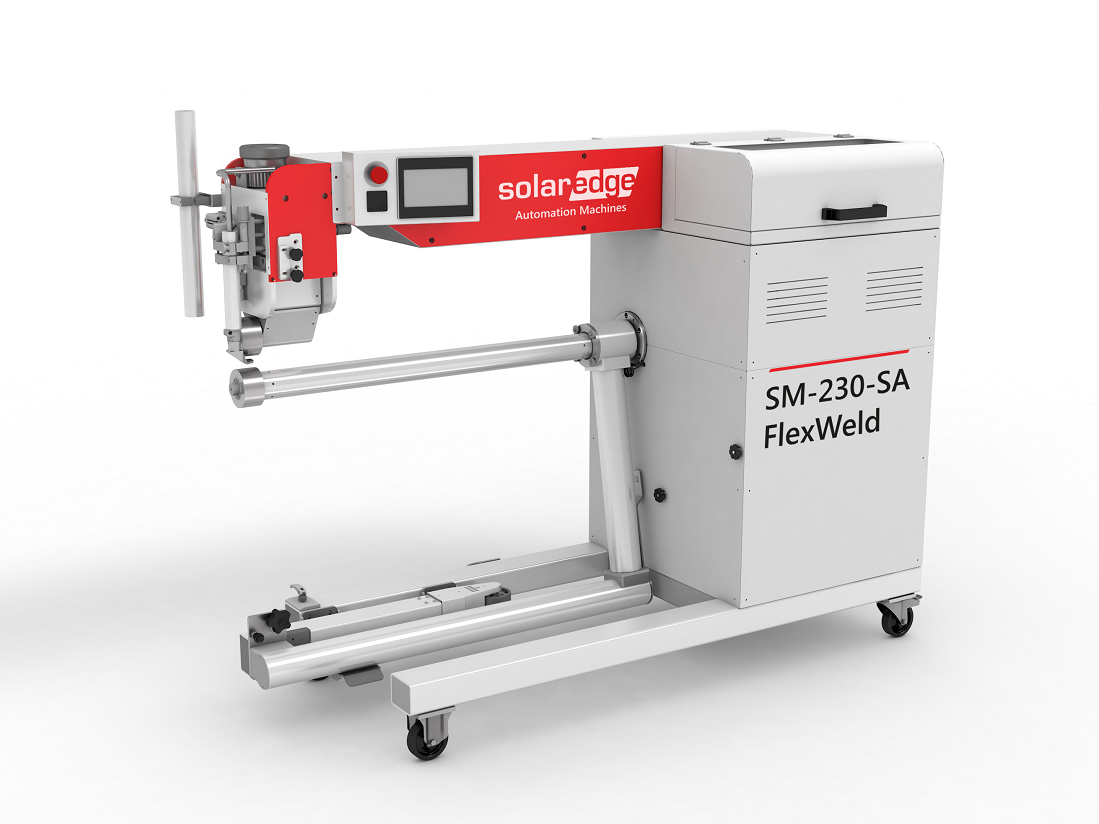 Applications
Advertisement banners & signs
Athletic mats
Inflatables
Containments booms
Conveyor belts
Cured in place pipelines
Keders
Agricultural covers
Industrial doors
Evacuation slides
Filtration systems
Duct pipes & ventilation tubes
Mattresses
Pool covers
Roofing membranes
Shelter structures
Tarpaulins
Tents
Installable tools and accessories
Hot air welding head with 3,6 kW heating element
Hot air welding head with 8 kW heating element for high-speed welding
Guides and welding wheels for overlaps
Guides and welding wheels for hems and pockets
Guides and welding wheels for keders and anti-vandalism belts
Torque controlled puller wheels
Feeding conveyor for XL and heavy fabrics
Software
PLC controlled machine
Technical specifications and configurations
Upright rotating swivel arm
Removable horizontal arm
Table for fabric sheets
Seam widths between 10 - 50 mm.
Welding speed up to 35 m/min.
Advantages
Super easy change-over from one application to the next
Wide range of welding tools and accessories
Strong seams
Powerful design
High-quality parts
Multiple welding menus
Numerous applications
Easy to operate
Limited operational costs
Negligible maintenance costs
Suitable for the heaviest textiles
Advanced safety features
We work to solve your problems
Related Articles & Products
image03-01
Camper awnings
One of the largest manufacturers in the world of RV campers, based in the U.S, commissioned the development and construction of a hot air welding machine that would produce camper awnings in high volumes. The seams were...
332-card
Anti-vandalism straps
One of Europe's chief manufacturers of truck curtains and a long-time SMRE customer requested the development of a fully automatic welding machine to produce anti-vandalism straps. The straps were to be used on...